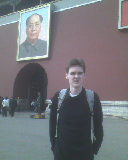 OK, I'm longer in Changchun, but back in the UK trying to get into a career more relative to my qualifications, long term with prospects.  It isn't easy!    There isn't much to write about living in the UK, though things are unlike Changchun and It Is very hard adapting to the way of life here.  I forgot how bad the  food is here   (太难吃了呵呵) and it seems the general lifestyle is more unhealty and controlled – to name but a few things… Anyway, hope to update this site with some of the more interesting things that happen to me.
———————————————————————————
This blog is just written to give a little more information about what things are really like and as a way to keep in touch with friends and family back home. I write what I think and as informatively as possible, make comparisons between here and the west. I hope that what is written on this site some people find useful, if you have any questions about what I write, feel free to email me at the address below.
Hopefully the pictures this will assuage those of you that think that I am not really in China, and that this is all an elaborate facade. 😉
Contact details:
QQ Number: 125873000